HIT IT OUT OF THE PARK!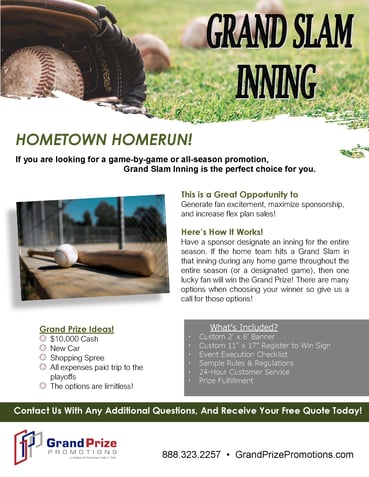 With our Grand Slam Inning Promotion, you are sure to hit it out of the park! Keep your fans engaged throughout the entire baseball game with this baseball promotion. Plus, you can customize this promotion to be a game-by-game or an all-season promotion.
Here's a look at how it works: If the home team hits a Grand Slam in the predetermined inning, then one lucky fan will win the Grand Prize! There are multiple ways you can choose your contestant so contact the Grand Prize Promotions Team now to learn how.
We offer a printable flyer that you can print and take to your sponsor. So, continue learning about our Grand Slam Inning Promotion by downloading the flyer or by clicking the image to the left.
For more baseball promotions, download our Baseball Promotions Catalog today!