BAR PROMOTIONS FOR FOOTBALL SEASON
Don't let the teams be the only winners - give your customers the chance to take home their own Grand Prize! Not only do our promotions drive excitement around the game, they also drive foot traffic to your location leading up to the big day!
Generate excitement and attention with our team/player performance contests: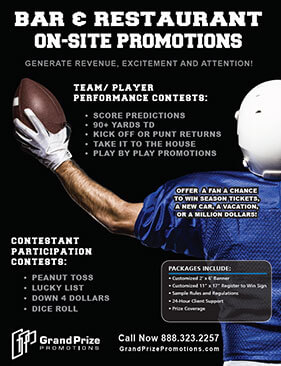 SCORE PREDICTION - It doesn't get easier than this. Have customers guess the score of the big game (or any game you choose) leading up to game day. If they guess correctly - you win!
KICK OFF OR PUNT RETURN- There are lots of options for this one. If the home team takes the opening kick-off back for a touchdown, you could buy the bar a round of drinks on you, or give a lucky fan the chance to win a grand prize!
SCORE ZERO, PAY ZERO - Wouldn't it be crazy if everyone's tab was taken care of if one team scored zero? Great idea for your home team bar - if they shut out their competitor in their bowl game, your customers pay nothing!
Or quench your patrons' thirst for excitement with one of these tasty promotions: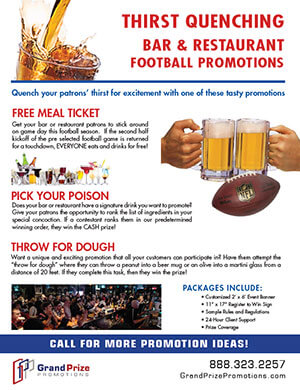 FREE MEAL TICKET - Get your bar or restaurant patrons to stick around on game day this football season. During the pre-selected football game, if the second half kick-off is returned for a touchdown, EVERYONE eats and drinks for free!
TOSS IT IN TO WIN - With this one, we've seen bars and restaurants give away a chance to play with the purchase of a special drink. On game day, one lucky fan will be chosen to take a chance and throw a Nerf Football through a specific target. If they make it - They win!
PICK YOUR POISON - Does your bar or restaurant have a signature drink you want to promote? Give your patrons the opportunity to rank the list of ingredients in your special concoction. If a contestant ranks them in our predetermined winning order, they win the CASH prize!
Offer a fan a chance to win season tickets, a new car, a vacation, or one million dollars! We want to work with you to make your Football Bar Promotions a success! We have representatives who are happy to help you customize a promotion or contest that will work for you. Fill out the form for more information or give us a call today at 888-323-2257!