TAKE YOUR EVENT TO THE NEXT LEVEL
Dice Roll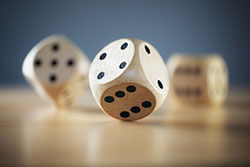 GPP provides custom dice with your station and sponsor logos. Every listener at the remote event throws the custom printed dice. If any listener throws a winning roll, they roll away with the grand prize! Tie client names or prizes into the winning word (i.e. "M-I-L-L-I-O-N" or "B-9-8-5-F-M".)
Scratch Cards
Road to Riches, Key to Win, and, Money Bag versions available. Contestants attempt to scratch the six (6) winning symbols to win. Second chance surfaces can be used to award sponsor prizes.
Licensed to Win
Post a predetermined 6-digit winning number (provided by GPP) on a banner at your remote. Every listener at the remote will have the chance to check the last 6 digits of their driver's license to the posted number. If anyone has an exact match – they win!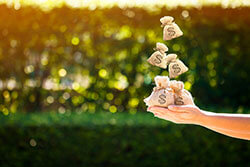 Money Bags
Display 100 money bags stuffed with prize certificates. Randomly select a finalist from all listeners in attendance at the remote event. Your lucky finalist will pick one money bag and win the prize inside. Every money bag is a winner and one money bag contains the grand prize!
Guess the Lucky Number
Display a container or vehicle filled with any item of choice (i.e. basketballs, golf balls, money, ping pong balls, bottle caps). Each listener to visit the event fills out an entry with their guess of the exact number of items on display. At the close of the event, randomly select finalists from all entries received. If any lucky listener has guessed the winning number – they win the grand prize!
Prize Wheel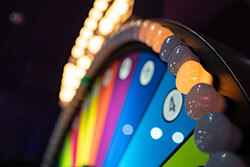 Listeners receive the chance to spin the prize wheel to win big prizes! If any lucky listener spins the wheel and it lands on the predetermined winning number(s) – they win!
Prize Vault
GPP provides a clear plexiglass portable safe pre-programmed with a winning combination. Attendees enter a lucky combination guess into the digital keypad on the Prize Vault. If they "Crack the Safe", they win the cash!
To learn more about our radio promotions, please fill out the form to the right or give us a call at 855-741-4066.