TWO SPORTS IN ONE!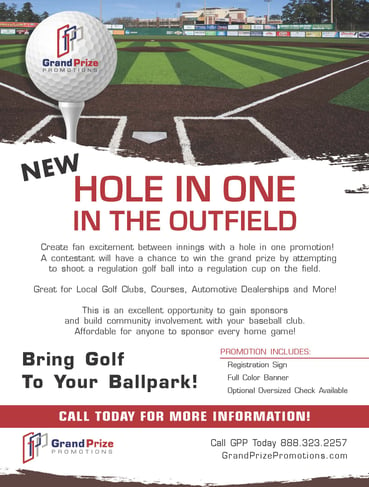 Our "Hole In One In The Outfield" Promotion is one of our newest baseball contests. It links two totally different sports together and takes place in the outfield at the ball park. It's designed to be an attention grabber and make people ask, "Well, how does that work? They are so different." And guess what - It does just that!
This baseball promotion allows you to decide when you would like for it to take place. You can do it before, during, or after the game, It's completely up to you! Here's how it all works: A contestant will have a chance to win a grand prize by attempting to hit a golf ball into a golf hole on the field! If they can successfully make the shot, they win the prize whether that is a cash prize, a car, or even tickets to the play offs. That choice is completely up to you!
For more information, click on the image to access a downloadable PDF. If you love this promotion, and are ready for a quote, fill out our form to the right and one of our Specialists will be with you as soon as possible. You may also reach us at 888.232.2257
For additional Baseball Promotions and ideas, download our Baseball Promotions Catalog today!