KNOCK 'EM OUT OF THE PARK!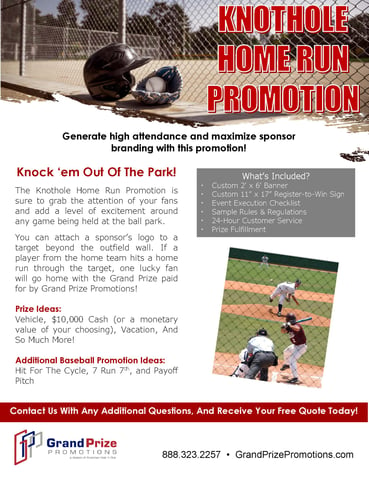 With our Knothole Home Run promotion, your event is sure to be a sell out! You will be able to attach a sponsor's logo to a target beyond the outfield wall. If a player from the home team hits a home run through the target, one lucky fan will go home a winner! The best part is the Grand Prize is paid for by Grand Prize Promotions, and all courtesy of the sponsor.
Promotions like this help engage fans, maximize sponsor branding, and add a level of excitement around any game or event held at the park. For a larger view of the Knothole Home Run promotion, click on the image to access a downloadable PDF.
For more information on our Knothole Home Run promotion, you can contact one of our Promotions Specialists at 888.232.2257 or fill out the form to the right to receive a FREE online quote!
For additional Baseball Promotions, download our Baseball Promotions Catalog today!