Wow, August was a great month! We had the chance to work with so many awesome companies, and here's just a couple of fun things we did.
Tulsa Drillers Winning Inning Promotion
We had the pleasure to partner with the Tulsa Drillers, a Double-A Minor League Affiliate of the LA Dodgers, on our Winning Inning Promotion! The coverage they purchased said that a lucky fan wins $10,000 if the Tulsa Pitcher strikes out the side, in order, in the 9th inning on 8/25. Well congratulations to Nanette because the Tulsa Drillers did it! Check out the tweet they shared right when it happened!
Thanks to @Michael_Boyle11 one lucky fan has WON $10,000 in the MEGA MONEY PROMOTION!!! pic.twitter.com/ckEwHfqdPK

— Tulsa Drillers (@TulsaDrillers) August 25, 2019
Score Atlanta
Have you heard of the Corky Kell Event? It was hosted at the Mercedes-Benz Stadium this year, and part of the proceeds go to the Kell Foundation to help fund scholarships. It was the perfect event to mark the beginning of the high school football season!
We were able to work with Score Atlanta, who put the event together, to host the Field Goal Kick for a chance at $50,000! We were able to grab some fun pictures that we will share below.
Arby's New Store Promotion in Ohio
Arby's held a Grand Opening for a brand-new store in Ohio. To add additional excitement, they held a Dice Roll Promotion. If a contestant can roll A-R-B-Y-'-S, they go home with $10,000! Our Dice Roll Promotion was a complete success for them even though there wasn't a winner.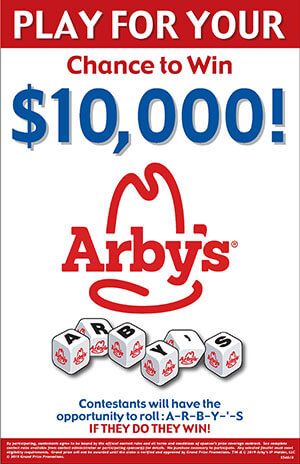 McCue Chevrolet Prize Vault Promotion
Our biggest cash prize from last month was our Prize Vault Promotion with McCue Chevrolet! Crack the code and you would win $100,000. The idea behind doing this promotion was to get more traffic to the showroom. It was a great success, and we can't wait to work with them again!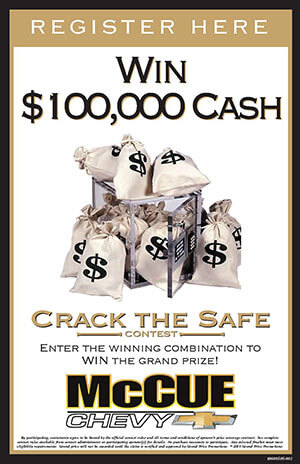 ---
As you can see, we had a great month in August, and we are excited to see what the next couple months have to offer! If you have any questions about the promotions we did or are looking to host one yourself, call us at 888.323.2257 or email us at sales@grandprizepromotions.com.
As a friendly reminder, don't forget to take advantage of our September Promotion. You will receive an over-sized, winner's check with every contract. The last day to take advantage of this offer is September 30th.