We live in an era ruled by technology. It's everywhere! You can get directions from Siri right at your fingertips and google the meaning of "Supercalifragilisticexpialidocious" within seconds! With technology taking over, there's a common misconception that Direct Mail Marketing is a dying breed, and that just isn't the case.
Direct Mail is an unsolicited, advertising mail piece sent to prospective customers through the mail. It's been referred to as "junk mail", but it's actually a useful marketing piece in the form of a coupon, catalog, letters, and so much more.
Direct Mail Statistics:
It's been documented that 70% of consumers prefer traditional mail verses email. When asked why, those 70% said that mail is a simply a more personal touch than a message through the internet! Here are some more interesting facts about Direct Mail:
56% of consumers who responded to direct mail, went online or into the store
62% of consumers who responded to direct mail in the past three months made a purchase
56% of customers find print marketing a more trustworthy type of marketing
30% of millennials said direct mail is more effective getting them to take action
84% of millennials noted that they take the time to look through their mail.
36% of customers said that coupons motivated them to make purchases
And there are more statistics from Hubspot's Blog to learn from.
With those stats, why are so many people ignoring this marketing opportunity? Many people claim it's because of the stigma behind the name of Direct Mail. People think "scam" when looking at direct mail promotions. Grand Prize Promotions is proud to say that we have no scams here, and we actually do have winners!
Grand Prize Promotions' Winners!
Lindsay From Washington!

Big smiles for Lindsay in Washington State! She became $5,000 richer after matching up her mailer to the numbers on the sign! She was one of our recent winners for this April! Congrats Lindsay!

February Winner From New York!

This winner's identity is left unknown; however, they went home $10,000 richer in February 2019! Steet Ponte Chevrolet located in New York sponsored this promotion! Can you image what you would do with $10,000 cash?

2014 Winner from Minnesota!

This winner matched his number from Direct Mail Number Match Mailer to the numbers on the sign, and he and his wife won $5,000! We love seeing winners from all different kinds of businesses!
How to make your Direct Mail Marketing successful:
An interesting fact about direct mail marketing is that for every dollar spent on direct mail, the average return on investment is $44.25. Boosting Return On Investment (ROI) should be every company's end goal, but where do you go from here?
40/40/20 Marketing Rule
The 40/40/20 rule is one of the most basic rules for marketing. It states that 40% of your success will depend on your list of people you are reach out to. Basically, you want to nail down the demographics of who you want to receive your mailer. How old are they? Have they purchased recently? What is their occupation? What is their gender? Things of this nature will weed out the people that shouldn't receive this mailer making it more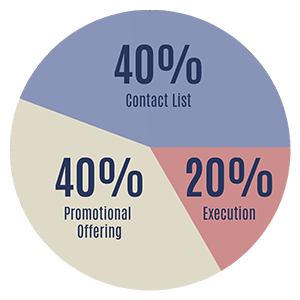 successful.
The other 40% is based on what you're offering. This is important… will you be offering a coupon code for the customer to redeem online or in the store? Will you be promoting a giveaway like a brand-new car, shopping spree, cash, or vacation, etc.? Prizes like these are going generate buzz around your direct mail promotion and really get people interacting with you.
Finally, 20% is your creative execution. Twenty percent of your time should be focused on how it looks and how the entire mailer will be executed. That is HUGE when designing your direct mail piece. You may have an awesome prize you're giving away, but you wrote it down in a letter format that is bland. This would not be as successful as designing a postcard format. People are 65% more likely to retain information if it is paired with a relevant image.
How Can Grand Prize Promotions help with your Direct Mail Promotion?
Grand Prize Promotions has a long history of driving unprecedented results with adding insured contests and prizes to our clients' direct mail campaigns. By adding a number match to your direct mail pieces, you can increase your response rates by up to 300%. Over 5,000 advertisement agencies, mail houses, auto dealers, retailers, and restaurants turn to Grand Prize Promotions for help. Ready to maximize your ROI? Call us at 888-323-2257, visit our Direct Mail Promotions page, or you can even email us at sales@grandprizepromotions.com!