This summer, we brought on an intern that came to us from the Boys & Girls Club of America, Jelani Spain. We were immediately blown away by his passion for sports as well as his drive to make things happen for himself. His background includes working for the Atlanta Hawks as well as the Atlanta Falcons, so you immediately know Jelani knows how to open doors. A few weeks ago, he traveled to Texas A&M (where he is now attending college) to audition for Team Manager for the Texas A&M basketball team. Jelani was kind enough to document his journey for us. Read his story below: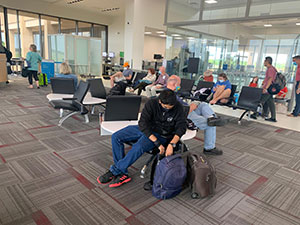 My trip to Texas A&M was different and amazing at the same time. It was different because of Corona. The airports were crazy and everyone was being very cautious. This was also different for me because this would be my first time flying alone. The trip was amazing because I got to visit my soon to be home, Texas A&M. The whole purpose of the trip was for me to audition for the Team Manager job with the Men's Basketball team at A&M, but being able to see the campus and the student life before school started was probably the most helpful thing.
The airport in Atlanta was so much more different than the last time I was there. For one, everyone was wearing a mask and some people had full hazard suits on. Security was strictly enforcing the new policies. Masks were strictly enforced as well as social distancing. People were 6ft apart in the entire airport which also meant long lines trying to get to my gate. Once you got on the plane, there were still new changes. Most airlines are not offering in-flight beverages or food. You must keep your mask on throughout the whole flight as well.
After going through all the new changes with airports, I was truly excited to be at A&M. This was an opportunity that could affect my future for the better, so as soon I got to campus, I got straight to work. I started to help unpack the new equipment we got for the upcoming season. After that I started to help prepare care packages for the kids that were participating in our virtual basketball camp. While doing all of this, I did my best to connect with the current managers. Asking them about their experience with the program and what they wanted to do with their futures. Trying to get as much insight into what the job is and exactly what I was hopefully going to be apart of.
In the middle of the week, I had a meeting with the Program Aide and Head Team Manager. This meeting was my final test. They began by asking me what I did at my previous job with the Atlanta Hawks and Atlanta Falcons. Then asked me what I thought about the program here at A&M. Towards the end of our meeting, the Program Aide offered me the position to become a Team Manager for the Men's Basketball team! I was truly excited and grateful for the opportunity. This job just gets me one step closer to my dream of working in the NBA. As a Team Manager at A&M, I will get to learn so much more about basketball. I will also get to make connections within our program and with other schools.
In conclusion, the trip to Texas A&M was a success. I was able to make it there safe and easily through the airport. I was then able to receive the position that I wanted. I honestly could not ask for anything more. The big thing now is where do I go from here? That question is pretty simple for me. Now I give my all to this job and try to learn as much as I can.
Jelani, we are proud of you and know that you will make your dream of working in the NBA come true!