In the last 20 years NASCAR Racing has become the most widely watched spectator sport in the United States, after of course the NFL and NCAA college football. The traditions and pageantry of a NASCAR event combined with roaring 700 horsepower engines from each of the 40 plus drivers is a spectacle in and of itself.


Why don't you fuel your next promotional event with this kind of high energy excitement by holding a NASCAR themed contest, or NASCAR themed promotion? These type events will drive these fans right into your store for a chance to be in your victory circle!
Here are some great NASCAR themed contests ideas. So let's get started... 'gentlemen... start your engines!'


Pick 'em and WIN!
Promote a grand prize of your choice, and since we are discussing NASCAR promotion why not make the grand prize two tickets to either the closest race to your location, or a vacation package of a NASCAR race weekend getaway at any of the racing locations.
Invite your customers to 'pick' the top 5 finishers IN ORDER to win the grand prize. Let's say you have three winners that have picked the finishing order of your particular race. Let these individuals roll the dice, and the person with the highest dice roll wins the tiebreaker and the grand prize!


Crack The Code
Put together a NASCAR prize package complete with tickets to a NASCAR race and everything that goes along with it. Put this prize package inside a glass vault with an electronic keypad serving as the lock for the vault.
Invite customers to come in and try entering the last 4 digits of their Social Security number to crack the code and win the contents inside!
Another way to promote this type of event is with scratch card mail outs. Everybody loves scratch cards, and after they have received their scratch card, have them come to your store and see if their scratched off numbers are the same as the ones posted for the grand prize.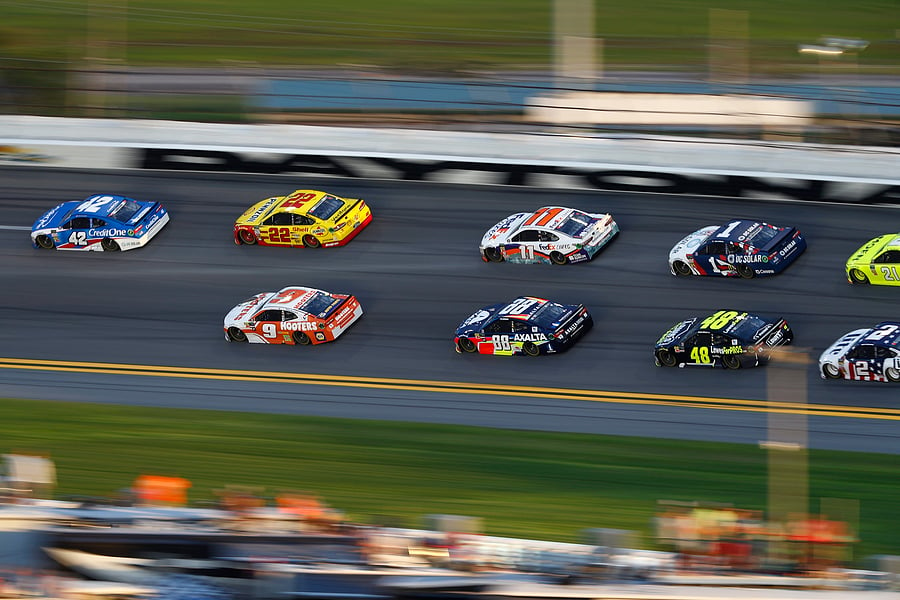 How Many Green Flag Laps? How Many Yellow Flag Lap?
Green flag laps are the laps that are run without any incidents occurring. Yellow flag laps are run at a reduced speed because there has either been a crash, or something needs to be addressed with the track in order for the race to continue.
Let your customers write down how many of each will happen at the race your event is tied around. If nobody gets it right, find who came the closest, and they win the grand prize. This type of NASCAR contest will appeal to those NASCAR extreme fans since it is based on a statistic of the actual race. If two or more get it right, include how long it took for the race to be completed in hours and minutes as a tiebreaker.


Luck of The Draw
Invite your customers to put their name in a pool. You can then draw out names to win one of several NASCAR items such as t-shirts, hats, or any other NASCAR promotional items you may have collected from vendors. But save the best for last.
Put together a NASCAR Grand Prize and draw 3 to 5 names for a chance to win that grand prize. A few days before the race invite those 3 to 5 finalists in for their chance to put themselves in the victory circle. They each have a chance to roll the lettered dice to spell the word NASCAR. If nobody rolls NASCAR, then try the high roll mentioned above.
Use your creativity to come up with one of these, or any other type NASCAR contest. When you are ready to put your grand prize together don't forget to put the team from Grand Prize Promotions in your winners circle!